Residential
We Design, Build and Install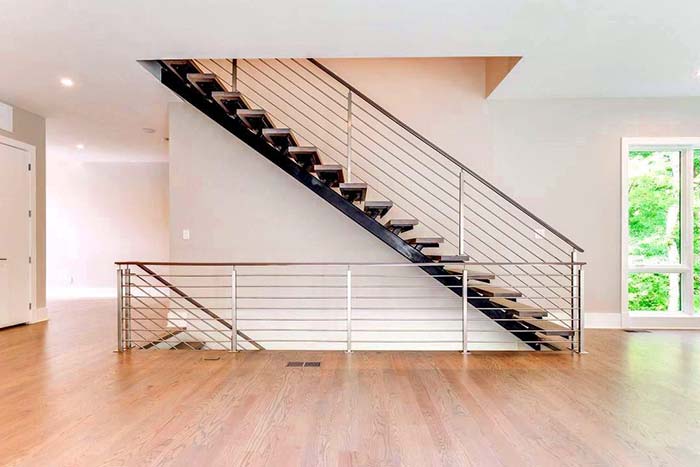 Anchor Business Agency has been creating high quality custom metal designs for homeowners for over 20 years. We have been providing standard and custom metal designs you've been dreaming of, fabrication and installation of stainless steel and alloy products to highest quality standards.
In our gallery, you'll find samples of the incredible variety of visions that we have brought to life for our clients, from the simple to the complex, and from functional to decorative metal work.
For polished modern looks, steel and aluminum are a popular choice for custom rails, like a cable deck railing, rod railing, glass railing or other unique railing designs. Cable railings afford a clean and open look that create open spaces and keep views accessible. We create all types of custom, decorative, ornamental railings from all metal or combinations of metal with wood or glass.
We work different materials like Stainless Steel, Regular Steel, Bronze, Copper, Aluco Bon, Corten Steel, Aluminum with excellent finishing and different types of polishing.
We have the experience, the knowledge, the skills, the tools, and the vision to deliver an exquisite quality piece that will last for generations.
Custom decorative & artistic metalwork
Anchor Business Agency creates custom decorative, ornamental and artistic metalwork for your home, business, or garden. When you want to make a bold statement for a lobby, or you want a stunning art piece for your home or garden, we will work with you to create a metal sculpture, a unique furniture piece, a wall-mounted piece of art, or a metal ornamental design for your garden that will bring the mystery and splendor of metal as art to your spaces.
Decorative metal work is not limited to architectural elements, but can stand on its own as enduring art that reflects and enhances the personality of your home or business.
Wall cladding and columns wrapping is primarily used to offer a permanent finish for walls in lieu of painting wood. Most cladding is done with brushing stainless steel. However Anchor Business Agency offers a wide selection of finishes. From patina steel/brass to perforated metal, we can fabricate and install any type of cladding you desire.
This is what we build:
Staircases
Railings
Cable Railing
Glass Railing
Canopies
Countertops
Sinks
Metal Panels
Fireplace Covers
Room Dividers
Column Covers
Kitchen Backsplashes
Custom Furniture
& More!
These are the materials:
Stainless Steel
Steel
Bronze
Copper
Tempered Glass
Wood
Any combination of the materials above